The standard steam generator is the second generation of our products which covers all power sizes from 4KW to 24KW, 220~240V AC or 380~415V AC. When equipped with KS-200A digital control panel, the temperature, working time and even steam room light could be controlled digitally. You could switch between temperature units, and also "Pause" the steam generator from heating when needed without shutting off the whole system. This new developed KS-100 touch panel controller is with attractive appearance and advanced function. High quality touch panel took place of the traditional button, it has greatly extended the life of the panel, what is more, the integration design enhance the leak tightness to refuse the infiltration of steam effectively.
The Standard steam generator features auto water supplementary system, over-pressure and over-heat protection, and In-generator auto drain system. The segment-heating and self-diagnose function make the heater energy-efficient and easy-operation.
Mineral buildup is the main problem affecting steam generator performance and life of heating elements. Non-resolvable particles in water could be removed by adding filter to the water inlet of steam generator, but resolved scale minerals dissolve under high temperature, and then precipitate layers of rock like deposits inside water tank and on surface of heating elements when water cools down. As a result of water scale build up, it may clog pipes, affecting heat dissipation of elements and eventually damage them. Thus washing and cleaning the steam generator after use is extremely important for hard water area or heavy-duty commercial use. With our unique MOTORTM auto drain system, the inner tank is washed and drained thoroughly by an 8kg powerful pump to eliminate mineral build up, which could significantly extend the life of heating elements and the steam generator as well.
Qualified for CE certification of Europe Union and Tests of China Import and Export Commodity Inspection.
The delicately designed Standard series steam generator is durable and efficient, so it covers most requirements of customers, and selected as the "Best-seller" product. We would recommend it as our "STAR" product to everyone.
Parameters:
Model

Power kW

Power requirements 50/60Hz

Current (A)

Power wire (Copper) N*mm2

Dimensions CM

Packing dimensions CM

Gross weight kg

KSA-30

3.0

220-240V~

13.6

3*2.5

42.5*16*30

54.5*21.5*42

10.5~11

KSA-40

4.0

220-240V~

18.2

3*2.5

KSA-45

4.5

220-240V~

20.5

3*2.5

380-415V3N~

6.8

5*1.5

KSA-50

5.0

220-240V~

22.7

3*2.5

380-415V3N~

9.1

5*1.5

KSA-60

6.0

220-240V~

27.3

3*4.0

380-415V3N~

9.1

5*1.5

KSA-70

7.0

220-240V~

31.8

3*6.0

47.5*18.5*45

53.5*23*59

15.6~16.2

380-415V3N~

11.4

5*2.5

KSA-80

8.0

220-240V~

36.4

3*6.0

380-415V3N~

13.6

5*2.5

KSA-90

9.0

380-415V3N~

13.6

5*2.5

16.4~17

KSA-105

10.5

380-415V3N~

15.9

5*2.5

KSA-120

12.0

380-415V3N~

18.2

5*2.5

KSA-150

15.0

380-415V3N~

22.7

5*2.5

KSA-180

18.0

380-415V3N~

27.3

5*4.0

52*20.5*49
59*24*61
17.5~18.5

KSA-225

22.5

380-415V3N~

34.1

5*6.0

KSA-240

24.0

380-415V3N~

36.4

5*6.0

Notice: KSA steam generator are equipped with auto drain system. 9~12 KW units could be customized to 220~240V on request.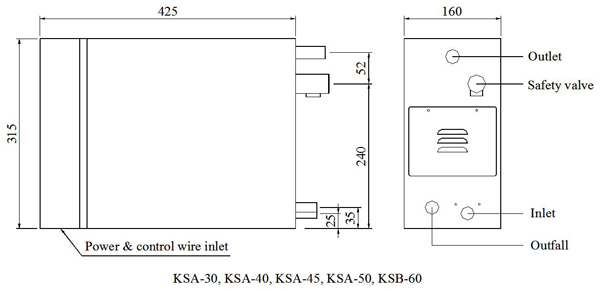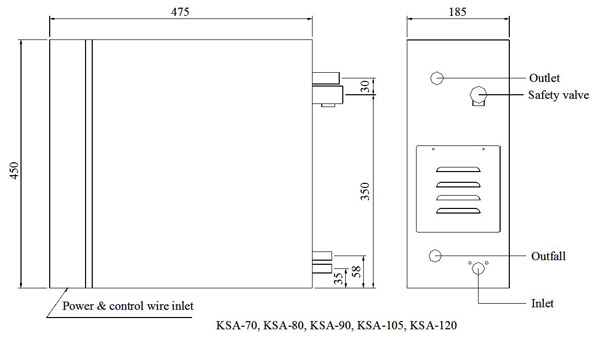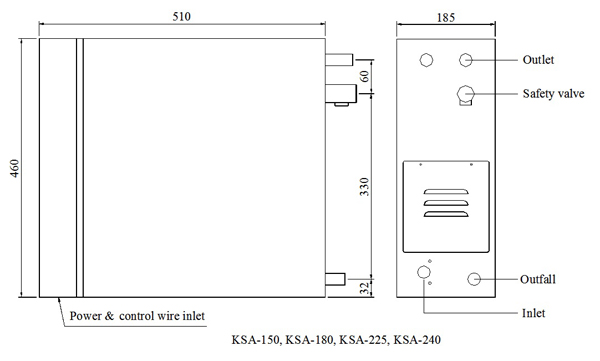 \